One Page by The 23 Company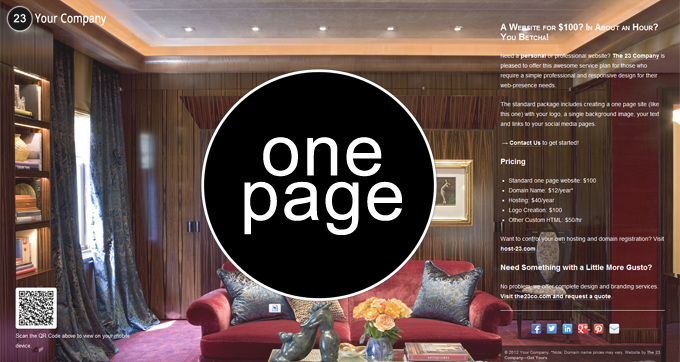 A Website for $100? In About an Hour? You Betcha!
Need a personal or professional website? The 23 Company is pleased to offer "One Page"—an awesome service plan for those who require a simple professional and responsive design for their web-presence needs.
The standard package includes creating a one page site with your logo, a single background image, your text and links to your social media pages.†
Demos
Links will open in a new page

Professional Site: great for small businesses and organizations that are just starting out.
Personal Site: great for professionals, artists and job seekers.
Pricing
Standard one page website: $100
Domain Name: $12/year†
Hosting: $40/year
Logo Creation: $100
Other Custom HTML: $50/hr
Let's Do This!
Contact Us to get started!
Hosting
We'll gladly host your site for you (pricing above); but if you'd rather control your own hosting and domain registration, visit host-23.com.
Need Something with a Little More Gusto?
No problem, we offer complete design and branding services. Please contact us today to see what we can do for you.

†Notes
Domain name registration & renewal may very depending on your url. Some customization restrictions may apply. The "website for $100″ offer assumes that you have secured hosting and a domain name.