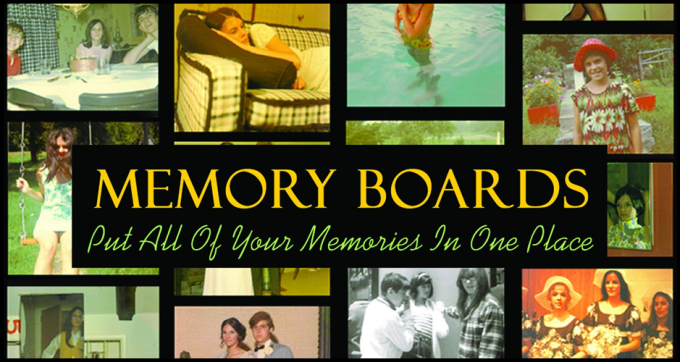 "Memory Boards" photo boards are the perfect way to share all of your memories in one place for any occasion. Bring all of the years together at one time. Celebrate someone or everyone all at once. Give the gift of a lifetime passed for a lifetime ahead, with all of the best memories to tell the bigger story. A place where all of your memories can live on forever.
We will have your final collage printed, mounted, and laminated on light weight foam board, so the final product is a sturdy, rigid Memory Board to keep and display forever. Or choose to have your collage printed only, for framing or an alternate display method of your choice.
Birthdays
Anniversaries
Mother's/Father's Day
Milestones
Reunions
Showers
Weddings
Memorial Services
Funerals
Farewells
Just Because
Unlimited number of photos
Final product is one large collage photograph. Have it printed for Framing or lightweight mounting
Available in standard sizes: 8×10, 12×12, 11×14, 16×20, 20×24, 24×36… maximum size of 48″ OR CUSTOM SIZES!
Use digital photos and/or older photos scanned in (*we can do this for you)
Straight row designs – or Mixed 'Puzzle' designs
Add Titles and Captions
We can arrange for printing at a store near you; otherwise we will ship directly to you
Design Pricing
Set Up: $15.00 (per board)
Per Photo: $1.00
Scanning: $10.00 (per 25 photos; includes return shipping costs)
CD copy of scanned photos: $1.00
Title: no charge
Caption: $0.10 (per photo)
Rush Fee: $25.00 (waived for funerals and viewings)
Printing Pricing
Full Color Print: $7.99/sq. ft.
Full Color Print & Mount: $14.99/sq. ft. (mounted & laminated on 1/4″ lightweight foam board)
Black & White Print: $0.50/sq. ft.
B & W Print & Mount: $7.50/sq. ft. (mounted & laminated on 1/4″ lightweight foam board)
Shipping: (includes pickup shipping & insurance)
• Customer Pick-Up: No Charge
• Print Only: $30.00
• Print & Mount: $35.00
• Rush Shipping: TBD
Note: Printing prices are subject to change. But don't worry, we'll let you know when you place your order.
Click on an image for a larger view.