Facebook's Get Notifications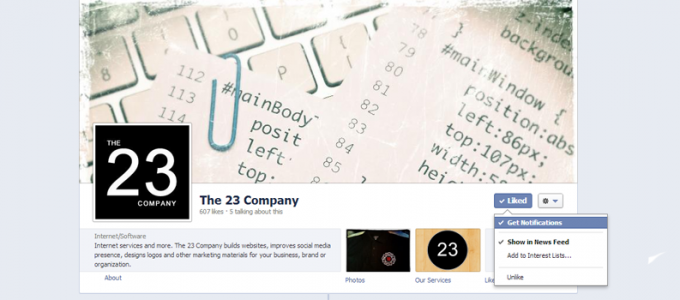 Facebook recently rolled out "Get Notifications"—a new feature for fans who don't want to miss out on their favorite brands' or company's updates. It is activated when a user goes a page they already Like (are a Fan of), such as our
Facebook Page
, hovers over the "Liked" button and selects "Get Notifications." They will receive a Facebook notification every time The 23 Company publishes a Status Update.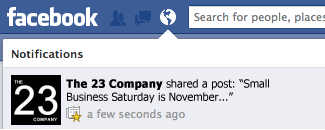 The "Get Notifications" feature is similar to the "close friends" option, which alerts users each time a new update or photo is shared by someone on their list. Now users can opt-in to receive notifications of status updates from the brand Pages they like the most.
With users and pages making so many posts and taking so many actions, Facebook uses an algorithm to sort News Feed rather than being a full stream like Twitter. Although the goal is to make the feed more relevant and engaging, this sometimes leads users to miss posts that they might have wanted to see. Some users have tried using Interest Lists to get a more complete feed from pages they care about. With notifications, however, users will be even more likely to see all the content from a page or person.
Notifications are off by default and settings can be changed at any time.  This is a helpful feature. For example, during Superstorm Sandy, users from Mendham, New Jersey could have set "Get Notifications" on the Mendham Fire Department Page to stay informed about emergency operations in the community. This is a silly example, but you can see what I mean about the feature's potential if you think a little outside the box.
Facebook confirmed to "Inside Facebook" in a statement, "We are currently rolling out the ability for people to receive notifications from specific pages, friends or public figures that they are connected to. This feature will help people keep up with the people and things that they care about most."
Note: This post uses information from Inside Facebook's article: Facebook rolling out option for fans to receive notifications about page posts by Brian Darwall